*updated February 11, 2021
*updated November 2, 2020
In the last several months, we have monitored guidelines and best practices for gathering in a safe way. After a significant amount of prayer and preparation, our buildings are able to remain open with cautions listed below.
We have entered the Yellow Phase and resumed in-person services at all campuses
.. We're committed to creating an environment that meets government recommendations for safety. To make that possible, our weekend services will be redesigned to create a sanitary, touchless environment that allows for physical distancing.
Childcare will be available for birth to 5th grade until maximum capacity is reached
. Your entire family is welcome to attend church with you in the auditorium or one of our overflow rooms, we just ask you sit with your household. Once the auditorium reaches capacity, we will filter people to another overflow room.
What We're Doing:
- Removed every-other-row in each adult environment
- Ask each household to keep 3 seats between their household and the next household
- Added overflow room once Auditorium reaches maximum capacity
- No passing out bulletins and other handouts
- No passing of offering buckets
- Touchless offering boxes at all doors
- All coffee will be prepared and served by our Coffee Bar teams
- No water fountains will be open or usable
- All high-volume areas will be thoroughly sanitized between services
- Additional hand-sanitizing stations will be placed throughout the building
- Staff and volunteers in all areas are required to wear masks.
- Everyone is encouraged to wear face coverings, but not required.
- Colored wristbands are available. Red = I'm keeping my distance. Yellow = Okay with talking but not touching. Green = Okay with hugs and high-fives.
How You Can Help:

- If you don't feel well or have health concerns, please stay home and join us at
Graystone Online
.
- Please wash your hands and use hand sanitizer often.
- Maintain a distance of six feet between yourself and other guests.
Graystone Online

For the past several months, we've been grateful for the ability to worship together at
Graystone Online
,
and we encourage you to continue to attend Graystone Online if you or a family member doesn't feel well, or if you're just not ready to attend church at a physical location. You're part of the Graystone family no matter where you choose to attend!
Graystone Online is also a great option if you want to invite a friend to join you! You can head to
https://graystonechurch.online.church
to experience worship, the message, and the community of your church family through live chat and prayer. You can also find online community on
Facebook
,
YouTube
, and
Instagram
.
Graystone Kids

Graystone Kids is open for regular programming. The precautions are listed below:
Standard Precautions:
Please stay home and participate in gKids Online if your child:
- has had a fever in the past 14 days.
- shows any symptoms of COVID-19.
- has been around anyone who has tested positive for COVID-19
Additional Precautions:
- Before kids, volunteers, or staff enter a gKids room, they'll need to get their temperature checked.
- We encourage you to only send one parent into the gKids area for drop-off and pick-up to help limit traffic in the hallways.
- All non-essential items from home will need to stay in the hallway or in your vehicle.
- We're sanitizing surfaces and toys frequently, and our volunteers are washing their hands often. Encourage your child to do the same!
- Each room will have a max capacity set at 50% of full size. Once rooms are full, parents are encouraged to attend the service with their child.
- All rooms & toys will be sanitized between services.
- Children and volunteers will sanitize and wash hands several times during the service.
- Used toy baskets will be used in all rooms and removed after the service.
- Shoe covers will be worn in all baby and crawler rooms.
- No snacks at any level.
- No crafts or coloring sheets at any level.
- Contact tracing: If a child were to become sick, parents of children in the same classroom will be contacted by the Children's Pastor.
Of course, if you want to stay at home - that's okay! We encourage you to continue teaching your kids about Jesus using
Graystone Kids Online
!
Graystone Students

Our students (6th-12th grade) are having their services and small groups! Head on over
here
to see the latest.
- Staff/volunteers are required to wear masks, and students are encouraged to wear masks.
We are continuing to monitor the situation in each of our communities to determine any necessary changes. We encourage you to make the best choice for your family and situation as you consider attending a physical location or continuing to worship at Graystone Online.
Check back here for further updates and information. We're so thankful you're a part of our Graystone family!
Has COVID-19 greatly affected your family? Let us know how we can help.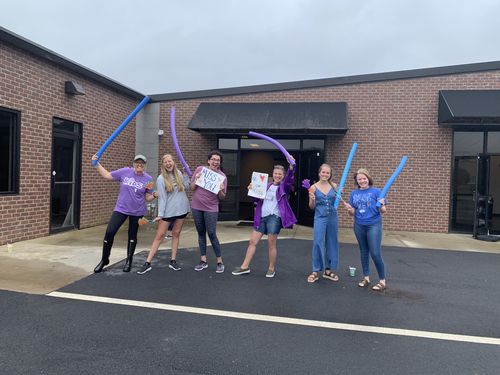 BE THE HANDS AND FEET OF JESUS.
There are lots of ways to help us make a difference across our campuses. Many people are not able to get out to go to the grocery store, get their medication, or need help with basic life functions. Are you willing to help? If so, fill out this form below.