Saturday, June 11 | 9:00am-3:00pm
Open to completed K- 5th grade and totally FREE!
Saturday, June 11 | 9am-3pm
Lunch and snacks are provided. *Please include any food allergies on the registration form.
Campers get to pick their tracks in registration.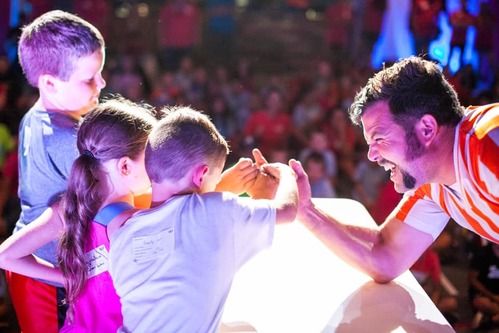 volunteer for sports camp
Adults and Students can help at any capacity! From Small Group leader, Snack Team, Set Up, Sports Camp Sunday, and more.
Click the campus you'd like to volunteer with, fill out the form, and a Kids Pastor will be in touch!
*All volunteers will have a required background check in order to serve with kids at Sports Camp.
Here are some other available serving options:
Work Days at all campuses:
May 11th 10am-1pm
May 18th 10am-1pm
May 23rd 10am-1pm

June 5th 12pm (Staff/Volunteer Setup)
June 5th 4-5pm (Volunteer Training)


FREQUENTLY ASKED QUESTIONS
What if my child cannot attend the whole Sports Camp?
Still come! Register your camper like normal, but please let your Kids Pastor know before Sports Camp so we can be ready. Use the
contact
form at the bottom of the page. Let us know what times you plan to have your child at Sports Camp.
What if I can only volunteer for part of Sports Camp?
No problem, we would still love to have you! Please inform us what portion of Sports Camp you're able to help on the volunteer form, and we'll accommodate.
How will food allergies be accommodated for my child?
Please list all food allergies in your Camper's form, and we will contact you for the best accommodations.
What does my child need to wear? Will my child need a change of clothes?
We advise to dress for hot weather, and please wear comfortable tennis shoes. Your child will not need a change of clothes.
Who can I contact while my child is at Sports Camp?
Contact information will be provided when your Camper is registered.
How are Campers divided into tracks and small groups?
Campers will be in small groups with their gender and grade. Campers will be in tracks by groups of K-2nd grade and 3rd-5th grade.
What is the schedule for the day?
8:30-9:00 Check-in
9:00-9:30 Large Group (intro, game, worship)
9:30-10:15 Track One K-2 / Lesson One* 3-5
10:15-11:00 Track One 3-5 / Lesson One* K-2
11:00-11:15 Bottom Line One (together)
11:15-12:00 Track Two K-2 / Lesson Two 3-5 (lunch)
12:00-12:45 Track Two 3-5 / Lesson Two K-2 (lunch
12:45-1:00 Bottom Line Two (together)
1:00-1:45 Track Three K-2 / Lesson Three* 3-5 (snack)
1:45-2:30 Track Three 3-5 / Lesson Three* K-2 (snack)
2:30-3:00 Large Group (worship)
Can my child bring a water bottle?
Water bottles are welcome and encouraged, but water will be available and provided throughout the day. Please clearly write or label your Camper's name on their water bottle.